This is a very personal list of 10 menswear brands offering both uncompromising integrity and remarkable value. They command my respect and I believe they deserve yours. At the very least they should be on your radar screen.
These brands and makers share a few common threads. With a few exceptions, they are not especially popular or well-known although they are highly regarded within certain circles. They have expanded but have not grown for the sake of growth.
They are clearly not driven by ROI targets set by investors. Nor have they expanded leaps and bounds overseas chasing the next new high net-worth (HNW) segment or forayed into dubious partnerships or collaborations for short-lived buzz.
Instead, theirs is the long game of playing to values and strengths. This usually includes a history of craftsmanship that is integral to the brand or the maker. They tend to pull their customers to them rather than having to constantly push their message outward to consumers who may not fully appreciate what they stand for. You'll note a few of the brands also have a women's line. This is a demerit only for the most rigid menswear purist.
The list is certainly not exhaustive or complete. But its eclecticism speaks to my own interests and needs in building my wardrobe. The list includes classic tailored clothing in RTW and bespoke but also accessories and casualwear/athleisure (American Giant and 4-rth) across different price points.
In every single case, my justification for including a brand is based on something rare these days – discovering each maker or brand simply by following my own interests and values. This means becoming a customer of each brand naturally and independently rather than as a paid influencer or through some pay-to-play arrangement, whether disclosed or undisclosed.
I also do not accept any display advertising with its inherent potential for biased coverage.
The upshot is that brands treat me as a normal, paying customer and I have never sought nor seek any special treatment or inducements in exchange for supporting or writing about a brand or maker.
In short, this list strictly reflects my own viewpoint and experience as a customer and curious interlocutor – nothing else. Last but not least, it also can be thought of as a healthy counterpoint to my previous critique of menswear brands.
In no particular order, here is my list:
Tailoring: Virtually any heritage bespoke tailor (especially Sicily but includes Savile Row and Naples)
Shoes: Crockett & Jones (and arguably the entire ecosystem of English shoemakers in Northampton)
Shoes: Tadeusz Januszkiewicz
Neckwear: Antica Cravatteria
Leather goods: Polish glovemakers
Leather goods: Equus Leather
RTW & accessories: Filson
Casualwear: American Giant
Casualwear: 4-rth
Accessories: Tom Bihn
Heritage bespoke tailoring. I have blogged extensively as well as written a book on Sicilian tailoring. For me, Sicily is the third leg of heritage bespoke tailoring along with London and Naples. I also make the case that is Sicily is the most flexible of the three traditions. But let me switch gears and dwell a bit on Savile Row, the forerunner of heritage bespoke tailoring. For those in the know, Savile Row tailors offer a distinct heritage cut which other tailors have adapted, borrowed and reacted against for 150 years. The uniqueness of Savile Row is unassailable. By definition, uniqueness is oneness. A Savile Row tailor typically has only one shop in the world. This means you go to them or you meet their visiting tailor in select cities around the world. Very few menswear or luxury brands can even approach it in terms of true distinction. Contrast this with Hermes, widely regarded as the primus inter pares of luxury brands in apparel. Hermes has 304 directly owned stores and 52 manufacturing sites globally. They make lovely products but which is truly more "exclusive"? Q.E.D.
Crockett & Jones. C&J is still owned by one of the original founding families, now in its fifth generation, and run by current managing director, Jonathan Jones. Refreshingly, Mr. Jones is not simply the "business" mind managing C&J. Prior to his current role, he learned last making, leather sourcing and product development. How many premium and luxury menswear CEOs can claim the same level of artisanal training and product knowledge in their own brand? Vanishingly few, if any at all. In terms of retail, C&J maintains a reasonably sized footprint through a limited number of stores. They also continue to operate out of their original factory in Northampton. Most importantly, they make products that are within reach of a working professional's wallet but still highly desirable because of factors unrelated to price or fashion. For me, it is a mix of classic English design and modern functionality (see why C&J is a strong candidate for my "one travel shoe"). In other words, they are not desirable because they offer a croc and stingray Chelsea boot dropped in a one-time collaboration with Supreme. Instead, they reflect the kind of sustained leadership and consistency that marks them as a rarity in the 21st century.

Tadeusz Januszkiewicz. Bespoke shoemaking is about fit, finish, and heritage. Equally important, Januskiewicz offers an accessible bespoke option to a wider range of customers than is typical in the bespoke shoemaking world. The only apparent 'downside' is the need to travel, in this case, to Warsaw. But this is no downside in my view. I visited Warsaw for the purpose of visiting the city's shoemakers and subsequently ordered a pair of monk strap ankle boots. I am very happy with the boots, above all with the comfort and fit. Moreover, the shoemaker's story and his sheer longevity is truly remarkable. Born in 1927, the maker lived through the Nazi occupation of World War II and the Cold War, both of which were extremely hostile conditions for any artisan. In a way, TJ's resilience is mirrored in the recovery and reconstruction of Warsaw. The historic core of the city is absolutely worth a visit for its artisans and cultural heritage (e.g. Chopin).

Antica Cravatteria. My discovery of this tiemaker was purely fortuitous and accidental but not surprising. Whenever I travel, I often discover artisans by simply walking around and exploring the city, town or village. In 2017, while visiting Palermitan tailors for the second edition of SGST, I walked by this delightful little shop off Via Roma and had a wonderful chat with the proprietor Roberta. Her store is a retail point for their RTW ties but I learned they can do bespoke on a CMT basis (i.e. making ties out of customer-supplied silks). Naturally, I went ahead and ordered several bespoke ties. Their bespoke ties are made by their Palermo-based tiemaker who can make 3-fold, 5-fold and 7-fold ties. It's become clear to me that Roberta is deeply committed to her shop and receptive to suggestions. During my first visit, I asked about 7-fold ties which they did not offer at the time. To my surprise, I learned from Roberta a few months later that she had been searching for someone who could make them. And she found someone. Highly commendable!

Czeslaw Jamrozinski RTW gloves. Photo credit: Juhn Maing.

Czeslaw Jamrozinski RTW gloves. Photo credit: Juhn Maing.
Polish glove makers (glovers). The most well-known makers of traditional leather gloves tend to be Italian, English and French. Yet the gloves which have fit me the best and the ones I wear the most are made by two virtually unknown glove makers in Warsaw. The first pair were made by Czeslaw Jamrozinski. I was initially tempted to try his bespoke service but ended up getting a pair of his RTW gloves since they fit me so well out of the box. I also happened to walk by another glove maker near Jamrozinski called Anna Serafinska-Szweryn and tried probably close to a dozen gloves in her shop. I ended up buying a pair of gray-blue suede gloves, which are very functional and hand washable to boot. They're probably my two favorite pairs of gloves. Warsaw is also home to other glove makers such as Jan Koziarski. Hint: Search for "Rękawicznicy" (glovers in Polish) in Google or Apple Maps after you arrive.

Equus Leather. It's difficult to get a more English belt than Equus. It's made with English bridle leathers (now expanded to include other high-quality leathers sourced outside of the UK) and fashioned by English artisans. Apart from the truly artisanal nature of their manufacture, Equus Leather offers a level of customization that remains unique. I believe they were the first English belt maker to offer a choice of buckle styles and materials as well as leathers and belt widths and lengths online. Moreover, you have the ability to specify a seemingly tiny but consequential detail – the spacing of the belt holes. Most belts have one inch spacing between holes but this has never been completely satisfactory to me. I prefer the narrower spacing that Equus offers. It is is this level of optionality that make Equus a winner for me.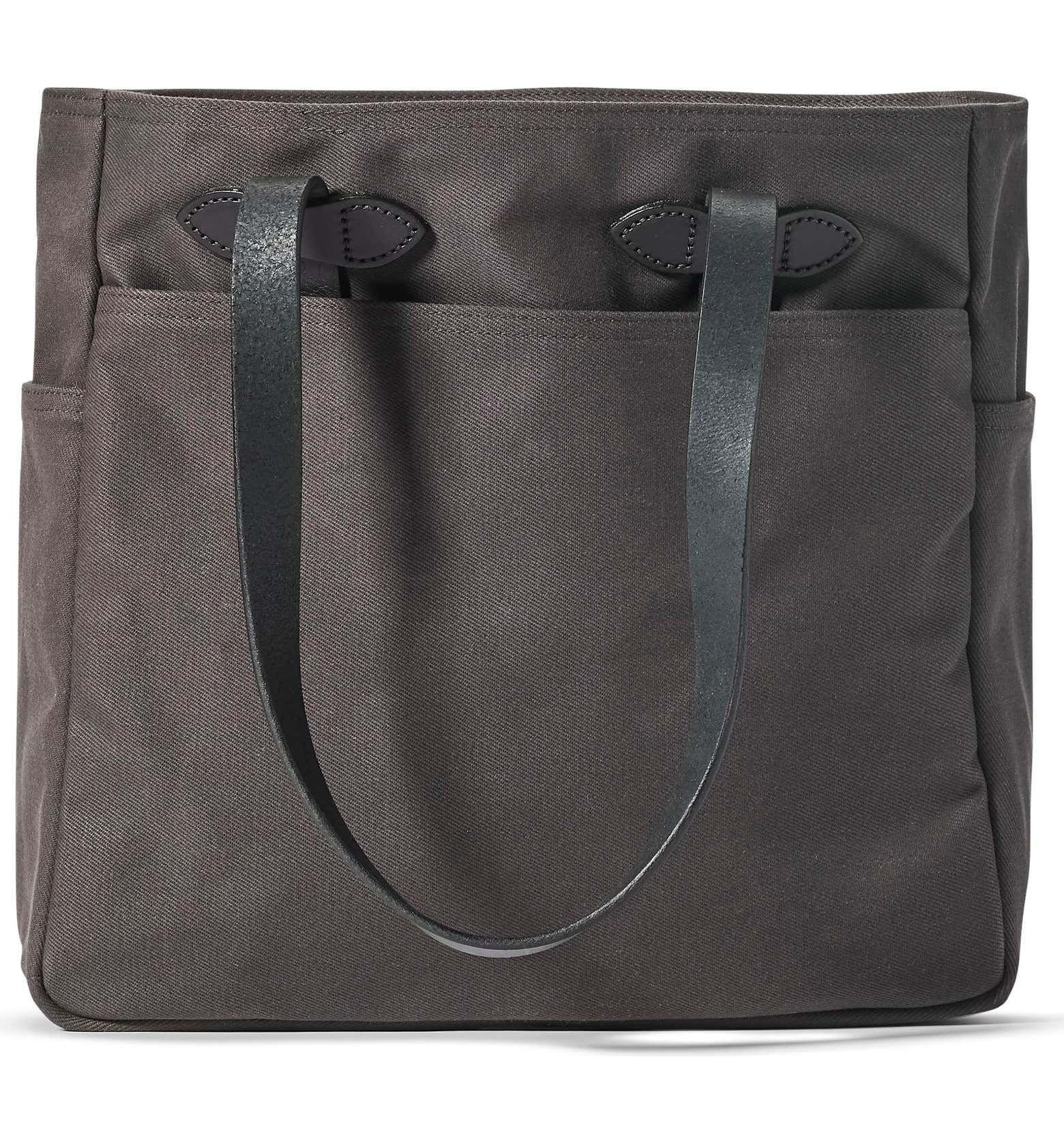 Filson. A common theme in this list is artisanal scale production, not mass or large-scale production. Highly skilled artisans and crafters relying on traditional techniques need time to make products. This often means genuine scarcity based on limited production capacity. This is the case with Filson's traditional products made in their factory. While a portion of their apparel is made with an overseas factory, the bulk of their products originates from their Seattle factory. During the most recent holiday season, I heard from an insider that a number of products were sold out weeks before. Hence, the company was running 24 hour shifts to meet demand. Conventional business wisdom says this is an inefficient business practice. But that's nonsense given Filson's heritage. For its heritage products, a single factory makes sense given its limited number of stores (19) in the US, UK and Japan. With Filson, running out of stock is a real consequence of running a heritage business, not an illusion of scarcity to stoke demand.
American Giant. Perhaps the most accurately named brand on the list, American Giant is a giant of vertical integration despite its small size. AG is a casualwear David compared to Goliaths like Nike and Levi's. It has also pursued a staggering level of made-in-America vertical integration that Goliaths with far deeper pockets have shied away from. This is not traditional vertical integration but a more flexible, networked verticalization. For more detail, take a look at a recent New York Times article on their latest product journey – bringing back the flannel shirt. In order to make the traditional flannel shirt, American Giant is singlehandedly bringing back yarn dyeing to the US where it was once a common industry practice but now extinct. This is the kind of leadership in heritage brands that we need more of. These days it is sadly lacking as I wrote in my piece on the artisan's dilemma.

4-rth. Casual wear and athletic wear should be comfortable. But in my book there is a natural limit to comfort. That limit is reached when comfort looks and feels sloppy, i.e. when pants legs or chest sizes significantly exceed what is needed for fit. In casual wear, fit may not be as critical as it is in tailored clothing, but fit is still a key consideration, at least for me. I've long had difficulty finding athletic wear that fits my particular frame while remaining comfortable. If you're on the trimmer side, definitely take a look at this small brand which manufactures in Los Angeles and focuses on sustainable materials and hardware. I enjoy wearing their knitted hoodies which are made of modal, a sustainable fiber made of cellulose. Modal has a nice, soft hand and pills less than other natural fibers such as cotton. In the last five years, the 4-rth hoodie has been my preferred travel top whenever I sleep on long-haul, overnight flights.

Tom Bihn. How is a company that makes bags and luggage similar to Savile Row? Like many heritage bespoke tailors, Tom Bihn has only one store in the world, which is co-located with their factory in Seattle. Tom Bihn makes highly modular, customizable bags in technical fabrics. Thanks to their O-ring and rail system for organization and storage, the modularity of TB bags can cover a range of consumer requirements and use cases that may change over time. Moreover, the company seems to work mostly on a batch production basis which means they first sell out inventory and only then the start the process to manufacture new stock. Going against the grain, they do not first make large quantities and then markdown any excess unsold stock. I like this approach since it generates far less potential for waste. I own two TB laptop bags which have stood up superbly over the years. Recently, I needed a new backpack and looked at Peak Design, Boundary Supply, and Nomatic, which look well-made and designed. But I ended up returning to Tom Bihn. For my purposes, TB makes the lightest, durable and most customizable travel and everyday carry bags that I know of.